Reading and writing the territory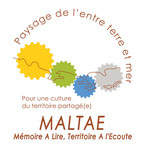 MALTAE, "the culture of mutual territory"
Created 20 years ago to expand trade and practice of territorial culture and history of landscape engineering, Maltae organization, "Mémoire à Lire, Territoire à l'écoute", ("Reading the Memory, Listening to the Territory") is working towards "the culture of mutual territory". Its work contribute to the culture enhancement of architecture, urbanism, and landscape environment, linked to mass education, a concern about the implementation of collective understanding and of social economy.
In the core of its work on the landscape are three main lines:
– That of time exploration – of its different scales, daily life, history and forecasting
– That of inhabited landscape – behind locations, men.
– That of an anthropological approach which stands against dissociation of nature and culture.
Through its "Reading and writing the territory" activity of research and mediation, Maltae association elaborates, between sciences and art, an unorthodox thinking and tools to educate the people in complex fields, such as territorial development (with participative workshops), a branch of Research and Development, along with publishing. Its means of action are: the organization of symposiums, study days, wandering landscape workshops; implementation of research work, action-studies, think tanks, innovative approach of experimentation, building of educational content, and territorial liveliness. "Mémoire à Lire, Territoire à l'Ecoute" produces films and publishes books together with the results of its work.
For its projects, Maltae calls up architects, geographers, landscape painters, photographers, film-makers, teachers, storytellers, writers, readers, hikers, seamen… Among the team, Jean Belvisi has made his contribution to several projects, bringing his personal vision as a photographer, and will once more prove himself a talented artist within the context of Erasmus project.