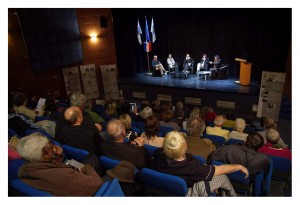 From 23/03/2015 till 26/03/2015
Saint-Exupéry High school, Cultural center of  Saint-Raphaël, Golf Hôtel High school of Hyères.
Eventful week, the first event of "From writing to screens" project was held in Saint-Raphaël, between Saint-Exupéry high school and the cultural center auditorium. Educational and scientific approaches took place in the presence of various public: General public, students, teachers, trainers and librarians.

A time of meeting between the partners, transnational one-day meeting, also took place and all week, Polish students Pelplin high school came to meet with students of Golf Hotel high school in Hyeres and work on their projects animated books.