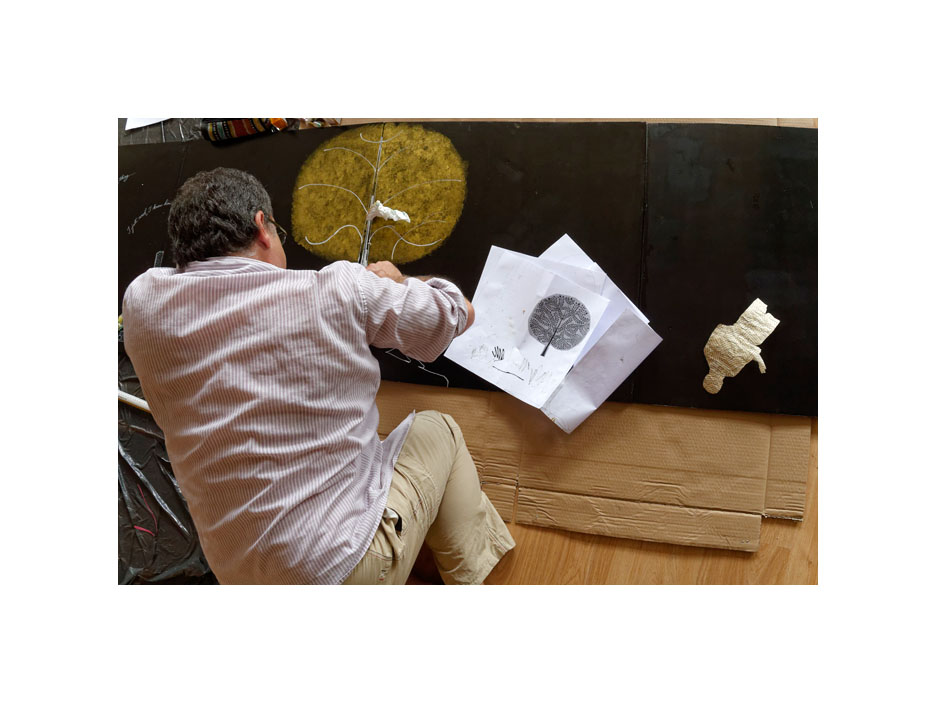 Description below
© Jean Belvisi photography / 2015
«  The men-books »
Creation of a huge book by Bernard Vanmalle, calligrapher,
In the Library of Pelplin (Poland)
In the context of the Erasmus+ project  "From the writings to the screens"
While the book paper and handwriting gradually disappear, Bernard Vanmalle,
poet and calligrapher, wants to pay tribute to the happiness of reading he discovered during his childhood and which gradually shaped his way of thinking
and seeing the world.
Resting on two quotations of Michael Ende and André Suarés, the huge  book entitled  "The men-books" speaks of strength of imagination that reading makes possible and which bears witness to the endless wealth of human beings
Overview of the huge book entitled "The men-books.
Size: each page measures 1 meter x 1 meter. The whole book measures 10 meters long and one meter in height. The book is an accordion which can be arranged standing in various ways.
Media : boxes of recovery, cardboard binding, paper falls; inks; dried leaves.
Grounds: silhouettes of body of readers; collage of texts and zentangle patterns.
Dates:  June  year 2015, library of Pelplin in Poland;  September 2015, at « La maison du livre » of Brussels.
"The Men books" project aims to unite the world's library to art by an original creation. The idea is to create portraits of readers, men, women, children, with compositions made by fragments of pages and illustrations of books intented to  'weeding', this activity which consists in discarding the most used library books. Books are carrying a poetry of the anonymous use  of hundreds of people having browsed these pages, imagined their stories, having put these books in their interiors. It's just like a supplement of soul.
This creation is part of a project Erasmus ' reading and writing  in a digital mutation context "which wants to examine the book and reading place in society of the 21st century.
Issues
In the movie Fahrenheit 451François Truffaud (1966), the men-books resist passively. They embody the books, make them live and transmit a body to another so if the object book dies, the text remains. Because as long as thereare men to embody it, there will be voices to pass it. The end of Fahrenheit 451 indicates that the book and writing have entered into an era of glaciation. Men-books are the custodians of the texts which, in the spring of a new era, will see the books circulate again from hand to hand. The book man is also free man. He must remember how reading develops the spirits, gives form to thought, to the vision of the world. This expression puts the creation of this residence in to a dimension of resistance of humanism values against the ideological chaos of the beginning of the Millennium.
In combining graphic design books, cartons and paper intended for disposal, the artist reuse materials giving them a secondlife which places his creation in a modest and ecological approach.
Finally from a psychological point of view, selected patterns describe the invisible effects produced by the reading of imaginary texts and draw domestic portraits of readers.
The Neverending Story Quote by Michael Ende
"I wonder, what is in a book while it's closed. Oh, I know it's full of letters printed on paper, but all the same, something must be happening, because as soon as I open it, there's a whole story with people I don't know yet and all kinds of adventures, deeds and battles. And sometimes there are storms at sea, or it takes you to strange cities and countries. All those things are somehow shut in a book. Of course you have to read it to find out. But it's already there, that's the funny thing. I just wish I knew how it could be."
Suddenly an almost festive mood came over him.
He settled himself down, picked up the book, opened it to the first page, and began to read…"
André Suarès, 1920
"May be the book will be the last refuge of the free man. If the man turns definitely to the automaton, if it happens to him no longer think by other way than ready made pictures on screen, this termite no longer won't read any more. Any sorts of machines will supply for him : his spirit will be handled by a system of talking visions; color, rythm, relief, thousand ways to replace effort and dead attention, to fill the vacuum or the laziness research and the particular imagination; everything will be there, less the spirit. This law is the one of the herd."
Association « les Ailes du Vent » (Varages/FRA)
Zespol Szkol Ponadgimnazjalnych  (Pelplin/POL)